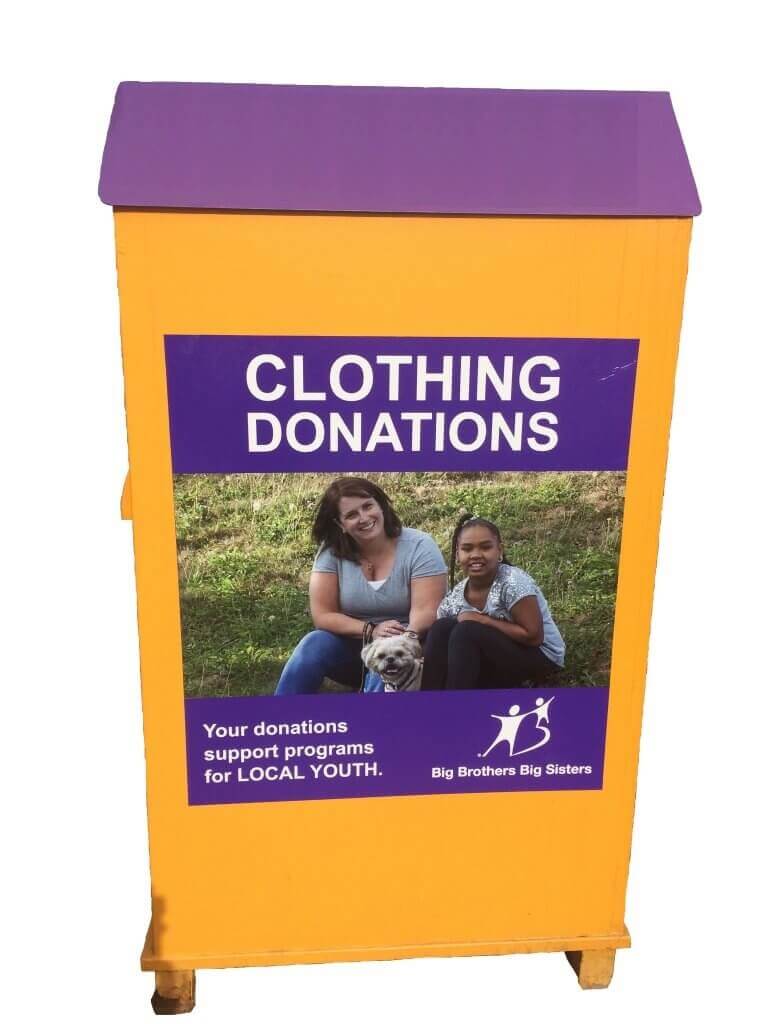 Donate Clothing to Help Support Mentoring
Frustrated with old clothes filling your closets? Don't throw them out! Your donation of used clothes can help support Big Brothers Big Sisters  programmes.
How it Works
Every pound of used clothing donated to one of our bins or at the Value Village New Minas Community Donation Centre helps generate income for Big Brothers Big Sisters programmes. We're able to do this thanks to the continued support of our amazing partners in the community. Funds raised through our Clothing Donation programme directly support Big Brothers Big Sisters programmes.
What we can take
Donation Bins
In our bins we can take any clothing (mens, womens, childrens), shoes, hats, mittens, scarves, ties, socks, underwear, towels, sheets, and any other cloth materials.
Value Village
If you have other items you'd like to donate, you can take it directly to Value Village!  They will also take books, magazines, records, CD's, DVD's, computer software, pots, pans, utensils, dishes, glassware, toasters, irons, blenders, stereos, and many other small household items.
Please do not donate wet cloth or broken items.  We also ask that you not place garbage in the donation bins.  Disposing of these items costs money which leaves less for our programs.  Thank you.
Donation Locations that support BBBS programmes.
Value Village New Minas Community Donation Centre
9256 Commercial Street, New Minas
Big Brothers Big Sisters of the Annapolis Valley Office
136 Exhibition St (2nd floor), Kentville
Bin Locations
Chambers PetroCanada
2001 Hwy 1, Falmouth
Valley Waste Resource
100 Donald Hitz Connector Rd, Kentville
Speedy Glass New Minas
11 Dow Road, New Minas
Former Centreville Dodge
1867, Highway 359 in Centerville
Armstrong H E Mechanical
808 King St, Kingston